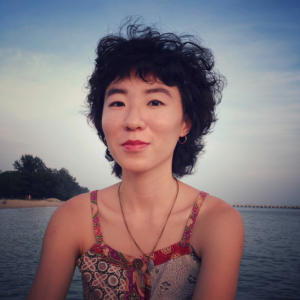 Ng Xi Jie
Singapore

Film, Performance, Installation, Writing

Selected Exhibitions/ Projects
The Handbook of Everyday Secrets, 2015
Singapore Minstrel, 2015
Xi Jie makes intimate encounters for a noisy world. She works across mediums like film, performance, installation, social practice and writing. She is interested in eccentric personal histories; everyday possibilities; the abyss of aging; the modern role of the Clown (often Pierrot), silence and the universe.
The Handbook of Everyday Secrets involved a small group from the Bendemeer-Boon Keng community meeting weekly at Kallang Community Club, a neighbourhood gathering space. The venture included inventing tasks to insert into daily life and accumulating questions to get to know people, for a subset of the project called The Question Archive. Each person conducts research on a unique topic about the area –from visual comparisons of the area past and present, to secret observations of people and spaces around. Visual artist Geraldine Kang is an intimate onlooker to the sessions, documenting the project with articles that combine pensive images with introspective writing.
A book that encapsulates our research and experiences will be made and given out at Kallang CC as a collateral about reimagining everyday life in the neighbourhood through its people, spaces, encounters, history and memories. This website acts as a repository of the project, with articles and a digital archive of old books about the area.
Her film Singapore Minstrel featured Roy Payamal as the wildest busker in a country ranked the world's most emotionless society. He takes his undermined line of work as a serious art- but is his faith impossible idealism or an admirable conviction? Singapore Minstrel is an invitation into his beautiful mind, a magical, trying universe where art and life dialogue in a tropical dream.
An old-time pioneer of the local scene, sometimes dubbed the 'Silver Man', Roy creates spectacular installations for his mind-boggling acts. His street colleagues are a troupe of offbeat, seasoned buskers– from a 70-year-old man who dances Gangnam Style with vitality, to a lovable guitarist trying to pass the busking auditions. The film flows kaleidoscopically from interviews to fantasy sequences, to raw footage of everyday life Roy captures on his mobile phone.