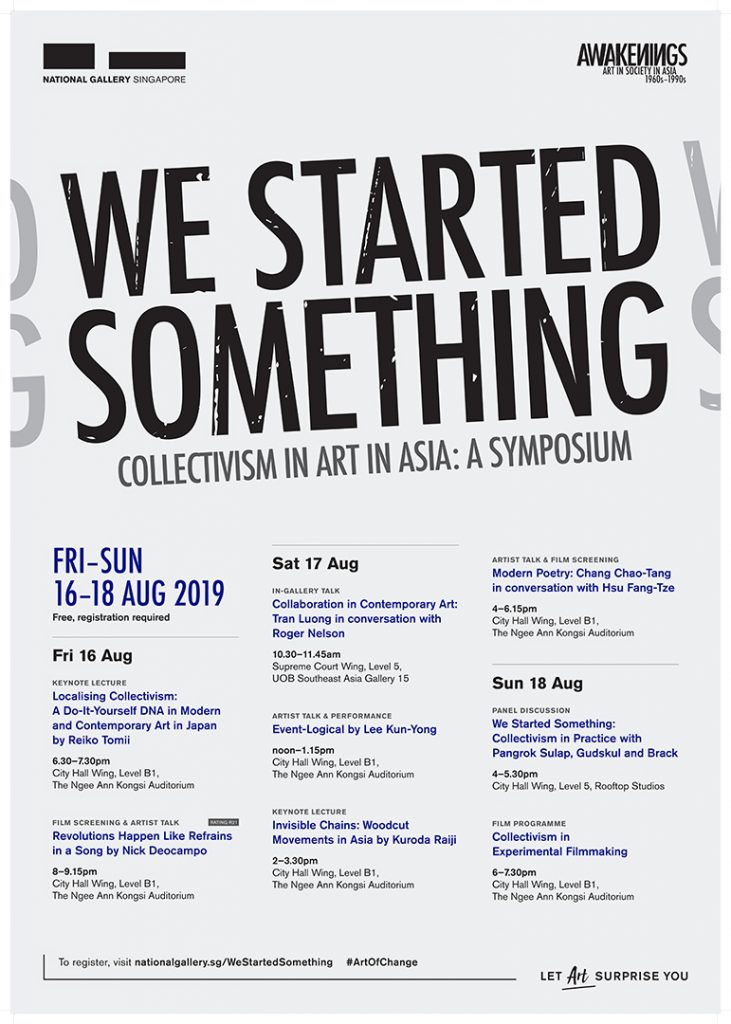 Representatives from contemporary art collectives in Southeast Asia (Pangrok Sulap, Brack, Gudskul) surface the motivations and challenges of working collaboratively in their own socio-historical contexts. Dr Minna Valjakka will lead this session and share findings from her own research.
Register here: https://www.eventbrite.com/e/panel-we-started-something-collectivism-in-practice-with-pangrok-sulap-gudskul-and-brack-tickets-65287884821?fbclid=IwAR3JrFWAEBHyyE5DrDS-Z_U3MDu73NhN7whV67y05Zkoyr_i_IBu7TTTggE
---
ABOUT THE SPEAKERS
Dr Minna Valjakka holds a Title of Adjunct Professor in Art History and Asian Studies at the University of Helsinki and currently is Senior Research Fellow in the Asian Urbanisms Cluster at the Asia Research Institute (NUS). Through an interdisciplinary approach bridging together Art Studies and Urban Studies, Dr Valjakka examines urban creativity as a response to the distinctive trajectories of geopolitical circumstances, developments in arts and cultural policies, and translocal mediations. She has published extensively, and her recent publications include a co-edited volume (with Meiqin Wang), Visual Arts, Representations, and Interventions in Contemporary China. Urbanized Interface (AUP, 2018).
Brack is a Singapore-based platform for socially engaged artists in Southeast Asia. They are interested in the practice of gathering; and dialogical exchanges across mediums, disciplines and communities. Brack seeks to understand how socially engaged art can activate a community or society and experiment in those very activations—through the way they write, work with artists, and engage with audiences.
Gudskul: Contemporary Art Collective and Ecosystem Studies is a public learning space established by three Jakarta-based art collectives: Grafis Huru Hara, ruangrupa and Serrum. It was founded to promote "B-knowledge," referring to B-movies and the B-side of a record, and unleash knowledge from multiple actors in society, not only those assumed to be trained. It aims to achieve this by decentralizing assumptions of knowledge production dictated by academic disciplines, catalogued by institutions and applied within specific parameters.
Pangrok Sulap is a collective of artists, musicians and social activists who aim to empower rural communities through art. Their name is derived from the words "pangrok," the local pronunciation of "punk-rock," and "sulap," the name of a hut or resting place usually used by farmers in Sabah. The collective is based on the Do-It-Yourself concept, hence their slogan "Jangan Beli, Bikin Sendiri" (Don't Buy, Do-it-Yourself).
---
ABOUT THE SYMPOSIUM: WE STARTED SOMETHING
What is the strength in numbers? How does personal inquiry culminate in a gathering of energy, voices and ideas? This symposium charts the evolution of artistic collectivism in Asia and its impact on the course of art and cultural history. Prominent historians, curators and art practitioners examine how unique modes of collaboration have facilitated the exchange and archival of knowledge and catalysed social change in the region and beyond.
—
This event is held in conjunction with the exhibition Awakenings: Art in Society in Asia 1960s-1990s. This exhibition investigates how experimental artists acted as catalysts for change during some of Asia's most turbulent decades. It spotlights artistic responses to major global events such as the Cold War, and explores how artists challenged political, social and artistic conventions.

Co-organised by National Gallery Singapore, the National Museum of Modern and Contemporary Art, Korea and the National Museum of Modern Art, Tokyo, and the Japan Foundation Asia Center, Awakenings draws connections across Asia through over 150 artworks by important artists from China, India, Japan, Taiwan, Korea, Hong Kong, Singapore, Malaysia, Indonesia, the Philippines, Myanmar, Thailand and Cambodia.
---
USEFUL INFORMATION

This talk is held at City Hall Wing, Level 5, Rooftop Studios, National Gallery Singapore.
Free admission by registration via Eventbrite page. Please give your name as per your Eventbrite registration at the door for admission.
Please arrive at least 10 minutes before the start of the event. Latecomers may be denied entry as seats could be reallocated at the discretion of the organiser.