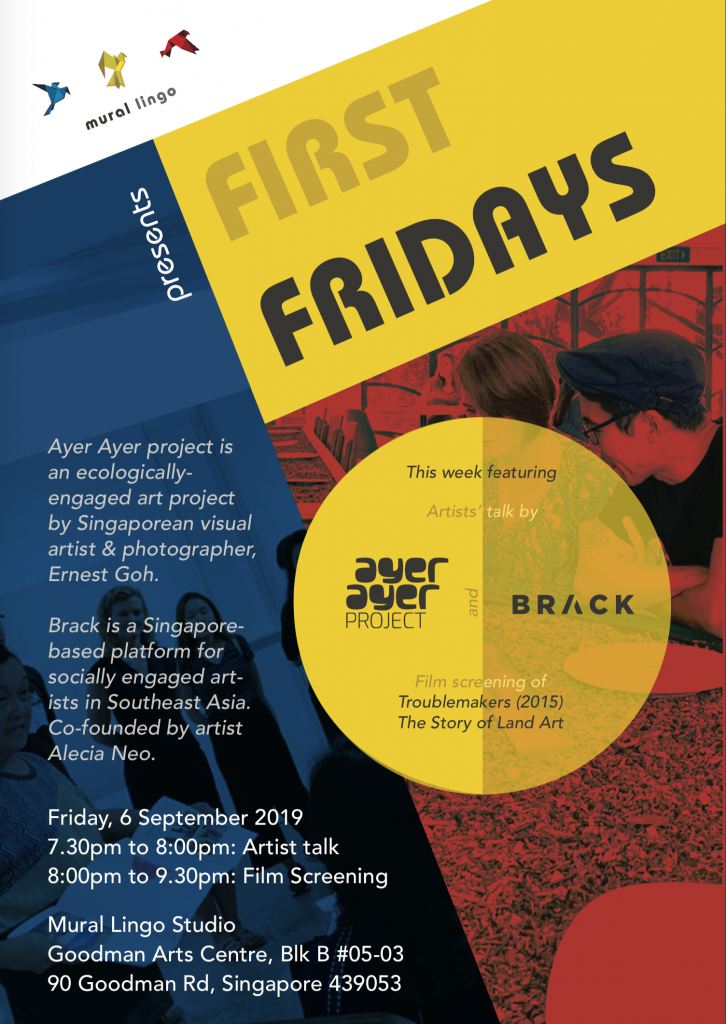 "Ayer Ayer", translated as water in the Malay language is an ecologically-engaged art project by Singaporean visual artist and photographer, Ernest Goh. The central idea behind Ayer Ayer Project is to raise awareness about issues of sustainability and environmentalism through visual, experiential and participatory artworks. 
Our platform Brack is interested in practices of gathering, and in dialogical exchanges across mediums, disciplines, and communities.  We seek to understand how socially engaged art can activate a community or society, and seek to experiment in those very activations—through the way we write, work with artists, and engage with audiences.

Hosted by Mural Lingo, the artists will share their shared collaborative art practice through recent projects and platforms which they have initiated.

Artist Bios

Ernest Goh
Founder of Ayer Ayer Project
Ernest Goh is founder of Ayer Ayer Project and a visual artist whose work focuses on ecological relationships.
Ernest has received the Discernment Award at the ICON de Martell Cordon Bleu Awards, Singapore (2012), Sony World Photography Award (2013) and an award of excellence from Communication Arts Photography Annual, USA (2013). He is also the creative director of The Animal Book Co., which works with animal welfare groups through art and design.
Previously a photojournalist with The Straits Times, Ernest has freelanced for wire agencies and international publications such as Smithsonian and Monocle. His documentary work has been published in Beyond Masks (2004), a book documenting the experiences of healthcare workers inside Singapore's largest hospital during the SARS outbreak, and in the multimedia piece Altered Land (2009), which showcased his four-year documentation of the aftermath of the 2004 Indian Ocean tsunami in Aceh, Indonesia.
Ernest's work has been commissioned by and installed at the Lee Kong Chian Natural History Museum, Singapore, collected by the Multimedia Art Museum Moscow, and also resides in corporate, public and private collections.
Alecia Neo
Co-founder and Artist Lead at BRACK
www.brack.sg
Working primarily with photography, video and participatory workshops, Alecia Neo develops long-term projects involving a variety of individuals and collaborators, overlooked communities and their spaces. Her work draws from ideas of mobility, reciprocity, caregiving and disability. 

She is founder of Unseen Arts Initiatives, a Singapore-based platform for differently-abled professional and emerging artists. She is also co-founder and artist lead at Brack, a platform for socially-engaged artists in Southeast Asia.