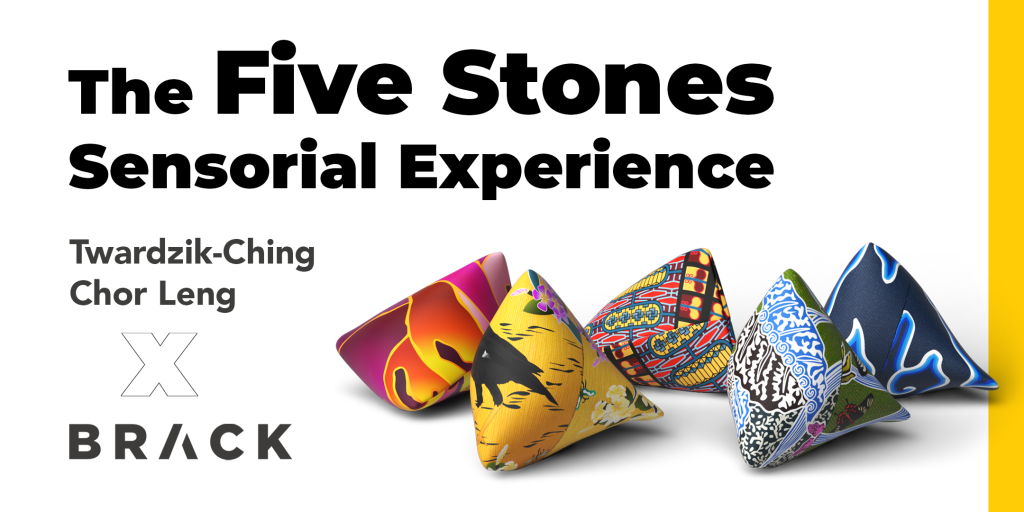 Brack presents an interactive experience as part of its ongoing research practice through encounters with artist Twardzik-Ching Chor Leng's "Five Stones"; a public artwork commissioned by the Public Art Trust, comprising giant inflatables reminiscent of the childhood game. Igniting personal memories and a collective remembrance of gathering around simple play, each stone offers exciting new ways of experiencing art in the everyday, and invites all in the community to come together.
This Sensorial Experience integrates central elements of the Brack creative process such as: gathering, empathy, and engagement with collective discomfort. How do our physical senses alter the way we experience an artwork?
Through guided walks and sensory activities, this workshop invites participants to engage deeply with their five senses in public spaces—alone and together.
For more information: https://www.publicarttrust.sg/Latest/Five_Stones
Tickets: https://www.eventbrite.sg/e/the-five-stones-sensorial-experience-tickets-84718626693?aff=efbeventtix&fbclid=IwAR1PIXc1bX2m3TMNeFLuYgq6QRB3lwCHfIIONfQpRDbhnIXTWAOg0aT04rI
WORKSHOP DETAILS
Estimated time: 4 hours (2pm to 6pm) *Includes a blindfolded experience, interactive activities, and post-workshop reflections
Requirements:
Max. of 12 participants only (Recommended age 12 and above)
Fees : $12
Participants will be blindfolded during part of the activity
Comfortable clothing and walking footwear
Provided:
Transport between sites
Snack / Tea in between
Bottled water
Poncho
ABOUT THE ARTIST
Twardzik-Ching Chor Leng (Singapore) is a contemporary artist who explores the dynamics of art and public space by encouraging communal participation through her works, stretching boundaries and perception in notions of art.
ABOUT PUBLIC ART TRUST SINGAPOREwww.publicarttrust.sg
The Public Art Trust (PAT) is an initiative by the National Arts Council (NAC) to make art a part of our urban spaces and bring art closer to Singaporeans. It aims to achieve this by commissioning new public art in spaces where we live, work and play.
ABOUT BRACK
Brack is a Singapore-based platform for socially-engaged artists in Southeast Asia. We are interested in practices of gathering, and in dialogical exchanges across mediums, disciplines, and communities. We seek to understand how socially engaged art can activate a community or society, and seek to experiment in those very activations—through the way we write, work with artists, and engage with audiences.
We have a community of artists, writers, and artistic and social intermediaries who are well-placed in Southeast Asia to understand these processes on a deep level. Brack emphasises the inter-relational. Aside from the online gathering space, it manifests as exhibitions, talks, workshops, dialogues, and collaborations with local and international practitioners that attempt an alternative praxis to the artist-audience link.