In August, 2019, Brack took part in a symposium convened by National Gallery Singapore titled We Started Something: Collectivism in Art in Asia, which sought to explore the origins and growth of 'artist collectives' in Cold War-era Asia, tracing the impact of these collectives on the development of Asian art and cultural history. Brack was joined by two other collectives – Pangrok Sulap from Malaysia and Gudskul from Indonesia – for a day-long programme in which each collective shared a core element of their practice with a public audience.

Pangrok Sulap led a workshop on woodblock printing, and Gudskul facilitated a 'knowledge market' wherein audience members taught and were taught by one another. Brack facilitated a process of improvised world-building, inviting the audience to collectively envision and articulate what their ideal future would look, feel, smell, taste, and sound like, before thrusting them back into the 'real' world. In the paragraphs below, we present a patchwork of considerations that went into the creation of the research-workshop, alongside an account of how it was received. This reflection is authored by Jevon Chandra, featuring contributions from fellow artist-facilitators of the research-workshop Kei Franklin and Alecia Neo, and Anthea Seah, a movement artist and workshop participant.

Kei articulates a premise:

"We are confronted with an astounding number of challenges in this current planetary moment. At the same time, we have more resources, technology and 'innovation' than ever before. Why does it feel that conditions are worsening? Why is wealth concentrating ever more in the hands of the top 1% while species die out at an alarming rate and whole communities are displaced as climate refugees?"

Kei's reflection rings true to me. In an age of material prosperity, can it not be expected that we do more since we have more? Why are we instead driven to incapacity or apathy so often?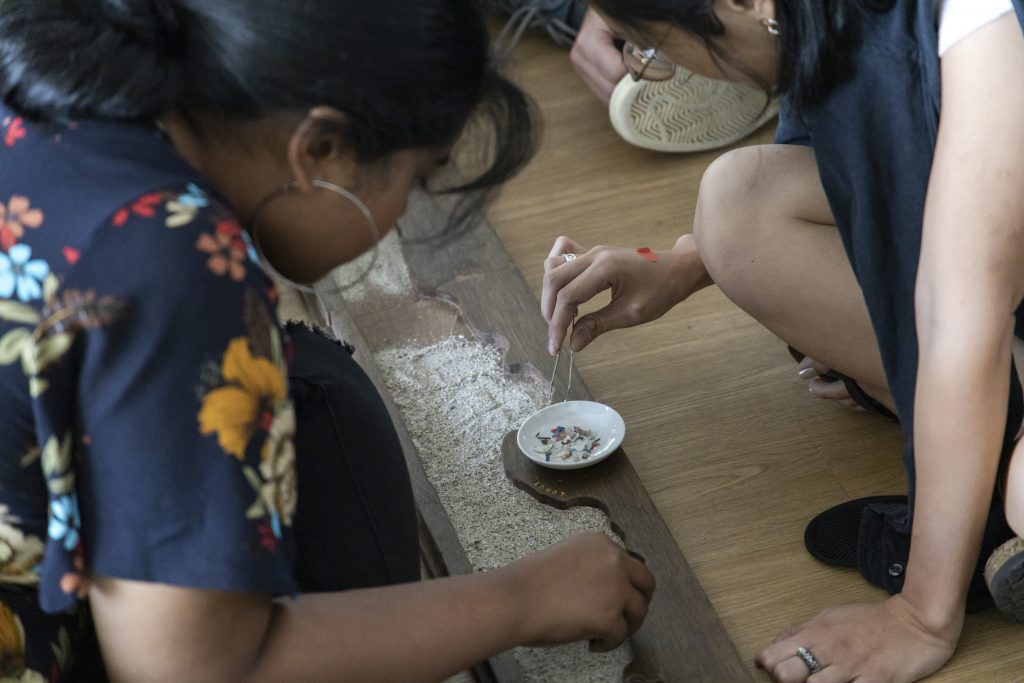 It was amidst a backdrop of inequality, climate crisis, and social fractiousness that this research-workshop was devised. Our intentions were, in Kei's words, to "invite participants to challenge the limits of their imaginative capacities", and to "push beyond cliches and inhibition and towards intuition." Having run previous versions of the workshop, we were keenly aware of how difficult it can be to be asked to imagine "the best possible future" from scratch, without guidance. Our mind space is often bombarded by visual, physical, and psychological stimuli that speak of doom, while its counterpoints present an equally relentless (and caricature) techno-capitalist vision of utopia. So how can we reclaim the mental space to expand our own horizons of possibilities? How do we repopulate our own visions of the world to come by acknowledging ourselves as creators and owners, instead of consumers, of futurities?
Meanwhile, in attempting to create space for a plurality of voices to speak, what can we as artist-facilitators do to guide the process? After all, our guiding umbrellas of approaches or ideas should be gentle enough to form a holding space for participants to inhabit, yet singular and intentional enough for participants to feel scaffolded and challenged.

One through-line is suggested by Alecia, who presented a video work, Homeostasis, as part of the workshop. Drawing on themes explored in the work, she shares:

"Aram(அறம்) is mentioned in the ancient Thirukkural which is widely revered as one of the most influential works in Tamil. Thirukkural can be read as a guide book for living, living well. Written by a humble weaver, the spiritual aspect of the kural couplets is emphasised in each chapter, and the existence of the afterlife is also suggested. Homeostasis (2017, ongoing) reflects upon this common creed and how it can help one to navigate the trials and tribulations in an increasingly complex world.

"Through a series of images and video, the work explores the human condition as an endless negotiation of perspectives, positions, desires and power. These images express imagined interventions and attempts at finding balance in intimate ways within ourselves, and with our worlds. This particular video from the series features Kelab Alami, a Johor-based youth group which advocates for education about their natural habitat, such as the vulnerable seagrass patch, in the backdrop of rampant development in the area."

Alecia's statement suggests active negotiation as an inescapable, yet ennobling fact of living and being with. From my own practice of understanding and communicating care, I understand strategies of caregiving and offering support as bi-directional relational actions – that is to say that my attention should not only be focused on the recipient of care, but equally on myself and my relationship with said recipient of care. As but one example of our many entanglements, I am reminded of how transference and countertransference happen in therapy settings, when we project feelings onto strangers or even therapists based on their likeness to someone else familiar to us. Much like the fault-lines that run rampant in our everyday, these projections are done unconsciously and rendered invisible to us, by us.

A lot of the effort required to excavate these buried tendencies, as is the case in therapeutic and recovery processes, involves uncomfortable work. Just as physiotherapy strengthens muscles previously disused, psychotherapy strengthens positive thinking patterns previously unexercised – both approaches urge us to use tools that we may have, but rarely employ. Discomfort, in pushing us out of our comfort zones, forces us to be more adaptable or open-minded.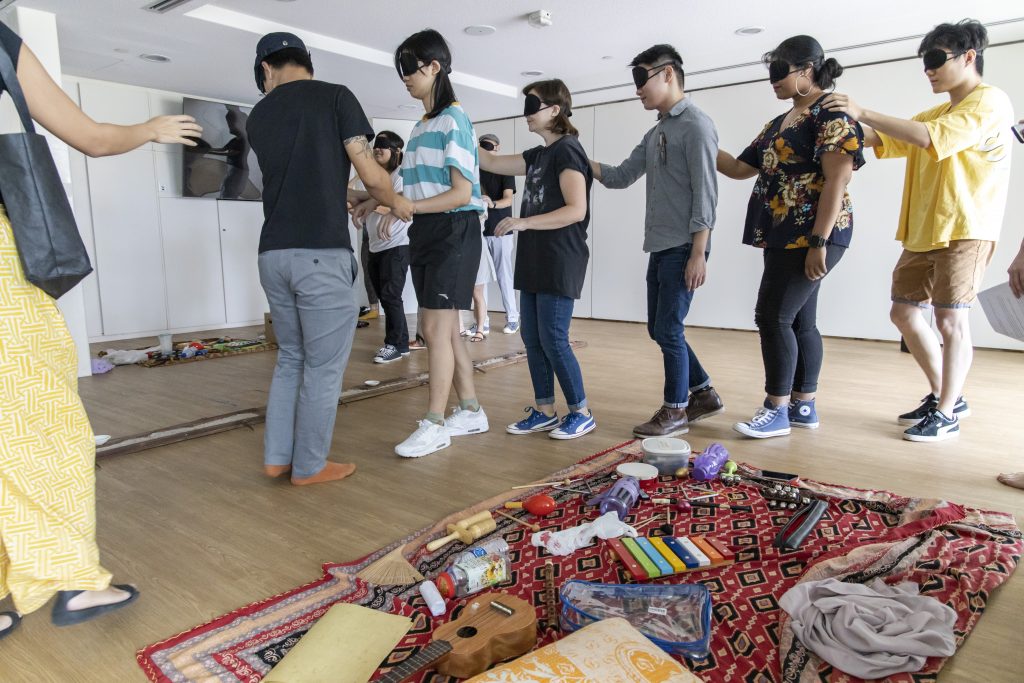 We wanted to apply a parallel approach to our research-workshop at National Gallery Singapore. By blindfolding people in the beginning and bringing them into another room, we leveraged a sense of destabilisation to transit participants into a different headspace. Anthea, a participant and a movement artist, recounts her experience:

"I entered into this series of workshops almost a blank slate, knowing only Jevon from an ongoing collaboration. Finding a space within this group of people gathered on a Sunday morning, for all I knew I could have been one of thirty strangers in the room, or I could have been the newcomer in a circle of familiar faces.

"With our sight cut off, my imagined world built itself by latching onto and taking off from non-visionary cues. In theory, this is a simple idea, but in practice, we realise just how much we rely on our sight for external feedback. Balance and footing, things we take for granted while armed with sight, became an immediate and physical concern. Led into a new space with hands on a fellow participant's shoulders and helped by facilitators with gentle voice and physical cues, it was fairly easy to guess where we were. The biggest unknown at that moment was: what had been prepared for us? Deliberate or not, those moments of waiting while the facilitators adjusted our positions were the most full of possibilities to me. My senses heightened and overloaded my mind with questions. Where was the next cue going to come from? Was it going to be a temperature change, a sound, or a texture? Was a touch accidental or intentional? Should I respond? What if I ran amok?"

Discomfort is used not for its own sake, but for its potential to be generative and inquisitive: if you are uncomfortable, why might it be so? What can or will you do about it? Now that we have more, see more, and know more, previously unseen injustices are also coming to fore. There is more for us to pay attention to, more for us to do.

Anthea continues:
"Then the journey into the imaginative world began.

"Once again, without sight, nuances in each individual's voice amplified. Kei's bright and clear voice was delivered in an engaging yet open tone to harness the full potential of possibilities. Some voices were quiet and spoke of ideas that were rational and thought-through, others hesitant at first yet sudden in delivery, much like a spontaneous riff. I found myself imagining which voices connected to which faces that I remembered from before."

From the participants' accounts of sketching speculative connections with unknown others, I am again reminded that any kind of restorative process has to be at least bi-directional and collaborative. In medicine, for example, good doctors cannot themselves guarantee recovery, for patients also need to be compliant with medical advice. The same concept can be relevant elsewhere, but outside of clinical settings, in attempting to live ethically, the concept's application is far less defined. When do we listen, when do we speak, and to whom? We can at various points be the "doctor" or the "patient", but mostly we are whatever lies in the spectrum between the two, and our bodies need to adapt the twofold practice of giving (advice) and receiving (help) as situations dictate.

For now, an acknowledgement of the research-workshop's incompletion: that thus far, we have only identified premises without conclusions. In parting, Anthea shares some final thoughts:

"The word 'Embodied' is naturally of great interest to me as a movement practitioner. Besides the engagement of our sense of hearing and smell, I anticipated, or longed for more of an invitation to or guide to explore our physical realm. Besides corporeality, the body also offers a large capacity for imagination. This is what still draws me to the title 'Embodied Research' and I look forward to revisiting this project or idea again in perhaps a different form. On this Sunday though, I'm appreciative of the new comrades in imagination I've found, this world that a group of thirty people built and lived in for ten real minutes, and I'm thankful for the quiet but sure reminder of our reality."

In Brack's capacity as a collective, through our own attempts of visioning, sustaining, and being present, we often find new lines of inquiry unfurling. In that meantime, our practice, it seems, can also be held together by force of active will, in the interior of days and hours of choosing to be with.