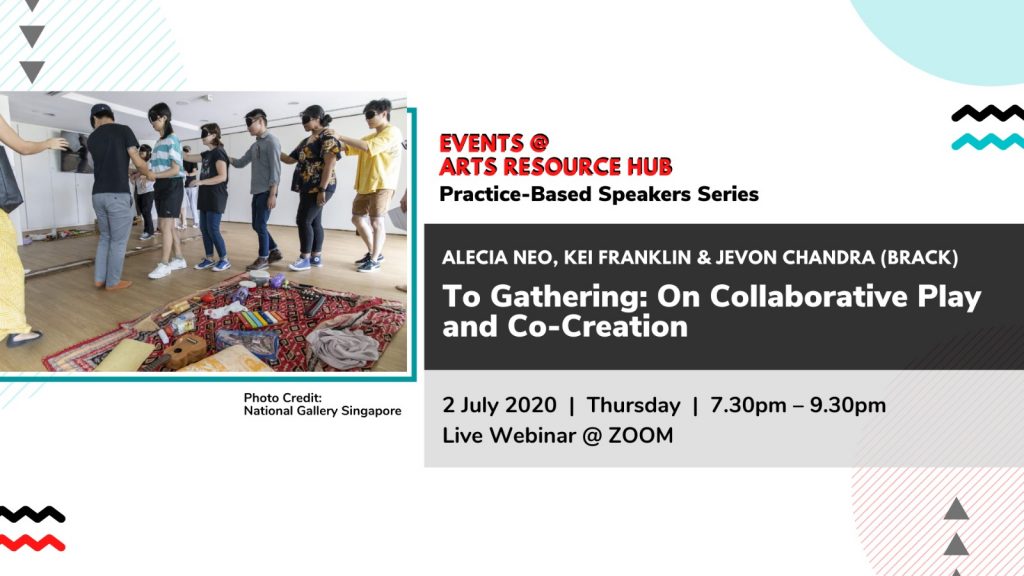 To Gathering: On Collaborative Play and Co-Creation
with artists Alecia Neo, Kei Franklin & Jevon Chandra (Brack)
2 July 2020 (Thursday)
7.30pm – 9.30pm
Zoom
Brack presents reflections on a series of research-workshops conducted over the past year. These research-workshops explore questions that are integral to our interdisciplinary and collaborative practice. How do individuals come together to build a world? How do we work toward a common vision while embracing plurality? How do we exercise choice and agency, while allowing others to do the same? What role do consent, negotiation, surrender, trust, and faith play in acts of collective decision making?

This presentation also offers a glimpse into Brack's research as part of their participation in The Substation Associate Artist Program 2020-2021. In their To Gathering series, Brack explores acts of gathering and radical hospitality amidst conflict and disruption. They are interested in notions of co-creation and collaborative play, which are not only constructive but also restorative and even potentially transformative, seeking common ground and empathy through engaging deeply with our differences and individual interests.
Find out more from Brack's artists Alecia Neo, Kei Franklin & Jevon Chandra, in our next edition of ARH Talks: Practice-Based Speakers Series, where they will share about:

– The act of gathering and notions of radical hospitality
– Unpacking what we mean by 'co-creative': negotiating power dynamics and inviting consent in collaborative work
– The spirit of reciprocal art-making in an age of fragmentation

Brack is a Singapore-based platform for socially-engaged artists in Southeast Asia. They are interested in practices of gathering, and in dialogical exchanges across mediums, disciplines, and communities. They seek to understand how socially-engaged art can activate a space, community, or society, and we experiment with these very activations—through audience engagement, writing, and working with artists. Aside from this online gathering space, our works manifest as exhibitions, talks, workshops, dialogues , and collaborations with local and international practitioners, in our effort to forge an alternative praxis within artist-audience dynamics.

www.brack.sg

ARH Talks: Practice-Based Speakers Series is a new series to feature artists with something to share about their practice in the arts. It is about the sharing of experiences and works with fellow arts freelancers and the self-employed in the arts, to expand our collective world of knowledge and applications we have as a community. Starting in May 2020, this will be a regular affair to introduce artists and their different practices to you, and hopefully to inspire us to think deeper and broader in our craft.

*This talk is open to ARH Subscribers only, please register as a subscriber if you are interested.

Register your attendance here!

For enquiries, please write in to us here.