To Gathering: Food Flows
Sat, 18 Feb 2023
10.00am – 1.00pm
(3 hours, inclusive of vegetarian lunch)
$35
Venue: KAMPUNG KAMPUS, 91 LORONG CHENCHARU (YISHUN) SINGAPORE
Register: https://www.eventbrite.sg/e/to-gathering-food-flows-workshop-by-guialecia-neomadhumitha-ardhanari-tickets-520216109387
What journey does it take to make food? How can we connect with our food stories/heritage and systems in creative ways? Composed around the site of Ground-up Initiatives, a low-carbon footprint campus, this experience offers a 2-part journey. Beginning with a guided tour where participants get their hands dirty through composting and harvesting, followed by a creative exercise exploring how we can deal with loss and bounty in the systems that sustain us so that we can sustain them.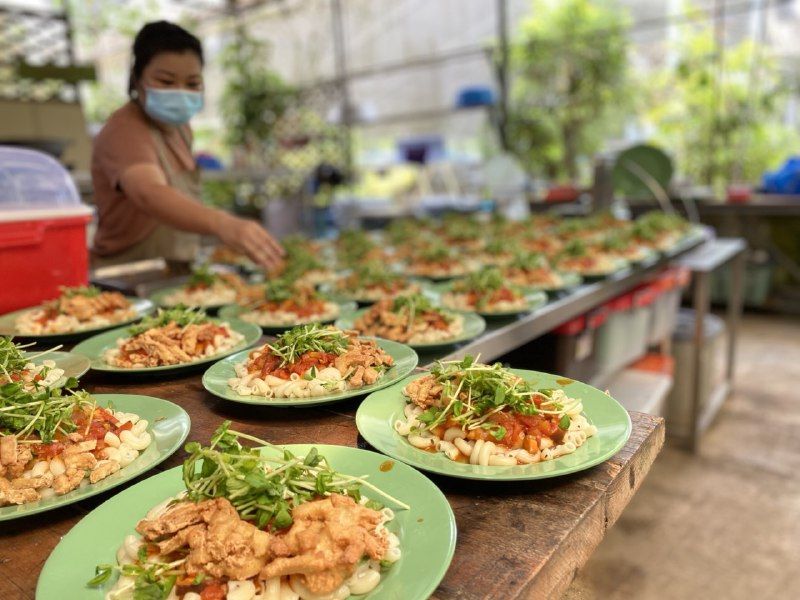 To Gathering is a series by Brack, a Singapore-based platform for socially-engaged artists in Southeast Asia, who are interested in practices of gathering, and in dialogical exchanges across mediums, disciplines, and communities.
Note to participants
On the day of the workshop, bring an artefact (a memory/ food item/ utensil) that brings you deep joy around food. Before our workshop, we invite you to consider your relationship with this artefact and the story of its journey across borders.
Dress in attire and shoes comfortable for moving outdoors. Long pants are recommended as there may be mosquitoes. Bring a change of clothes, a drink of water and natural mosquito repellent (if any).

Collaborators
Ground-Up Initiative (GUI)
Ground-Up Initiative (GUI) is a non-profit society, with a mission to connect people with Nature, Self & Others. By creating a space to nurture connectedness, creativity & risk-taking, we aspire to build a 21st Century Kampung Culture that cultivates holistic solutions for a happier and more sustainable future.
Located in Yishun, north of the island city-state of Singapore, many have come to the Kampung Kampus; a low-carbon footprint campus to experience for themselves GUI's approach to sustainable living and a hands-on culture of learning, strengthening communities and nurturing more grounded leaders based on our Thinker, Warrior, Farmer philosophy.

Alecia Neo
Alecia Neo's art practice unfolds primarily through lens-based media, installation and participatory artworks. Her ongoing projects include Care Index, an experimental platform that collects and features diverse practices of care performed by people from all walks of life. Conceived in late 2020, Care Index builds on a previous project titled, Between Earth and Sky, which was developed in collaboration with movement artists Sharda Harrison, Ajuntha Anwari, and group of caregivers in Singapore.
She is co-founder of Brack, an art collective and platform for socially engaged art, and Ubah Rumah Residency on Nikoi Island, Bintan. She also runs Unseen Art Initiatives, an art platform for professional and emerging disabled artists and cultural workers.
Madhu is Principal Sustainability Strategist at Forum for the Future, with eight years of experience as a futurist and systems practitioner coaching businesses and organisations to adapt to long-term sustainability challenges. She has extensive work experience in areas such as food futures and sustainable value chains and livelihoods. She is an ardent wonderer of imagining what a more just and regenerative world could look like through leading projects such as Protein Challenge Southeast Asia and Shaping the Future of Responsible Recruitment. She is an Atlantic Fellow for Social and Economic Equity as well as a Next Generation Foresight Practitioners Fellow, where she is researching Singapore's narratives around land reclamation and regional sand demand.