Brack editor Kirin Heng travelled to Hong Kong and visited

Bellini Yu

of i-dArt ("i do different art") at Tung Wah Group Hospital, where the latter coordinates an arts education programme under i-dArt for people with different abilities.
As Bellini very generously gave more than three hours of her time being interviewed and showing the location and artworks of the programme, this interview extract is comprised of four parts in order to provide a clear overview of her work at i-dArt. This is Part 2 of 4 about the artistic evolution of three of her students, YUNG Cheuk-kwok, CHENG Ka-yan, and LEUNG Iat-hong from the cohort of 2013.
This excerpt is part of a longer feature in

BrackMag #4 The

Energy Issue

.  Purchase the issue

here

.
All the artists (…) now using this room have their own drawer to store their own works. They know where the tools are, what tools to pick. Each of them has their own materials.
[On artist Cheng Ka-Yan and her paper-cutting collages that embody the culture of Hong Kong]

B: Another artist I would like to highlight is Ka-yan. Actually before [starting] paper cuttings, she was very talented at drawing Chinese poetry.
She is very good in doing such a Chinese poetry [art] with Chinese ink, because she's so free….the brush, the ink, the colour, her works are so lively… Always with references. She has to have a reference, like some Buddha drawing or some pottery drawing with Chinese-style, but she transforms them into her own style.
But one day, [one of their teachers] wanted to introduce them to other mediums, so he freely demonstrated some paper cutting. Ka-yan suddenly tried to do her own paper cutting collage. All these Chinese texts are all from her childhood and life experiences. [I knew her from the beginning] and since then, before any arts class and art group she joined, she liked to write some Chinese texts on scraps of paper. All these texts are Hong Kong MTR stations or Hong Kong local brand names. But at that time nobody thought she was doing art, they thought she was writing for no reason, just because she liked it.
But after she got inspired by paper cutting, all those writings came back suddenly, and since that day, every day she has [made] so many texts and terms [created using] the scissors. Before any paper cuttings like this, she just used glue to glue them on. But we found this very dirty, so we introduced her to another kind of glue. And she tried to explore how to do that, and how to do the combination with the background. She covered the whole paper with glue, just like another layer of work.
This is how her work starts. She'd write many words: all these Hong Kong cultural words, from the television, from the streets, from the brands, and then she will do different colour combinations. Afterwards she will cover the whole paper with glue. After it dries, it becomes another layer.
Now she has another development: she tries to just glue this. So this becomes another kind of pattern in her work. And without any background. So I also think she is doing her own study on artwork. Just like the work of Cheuk-kwok, Ka-yan is just like any other practicing artist. She is doing her own study and experiment on creation and on what she really likes.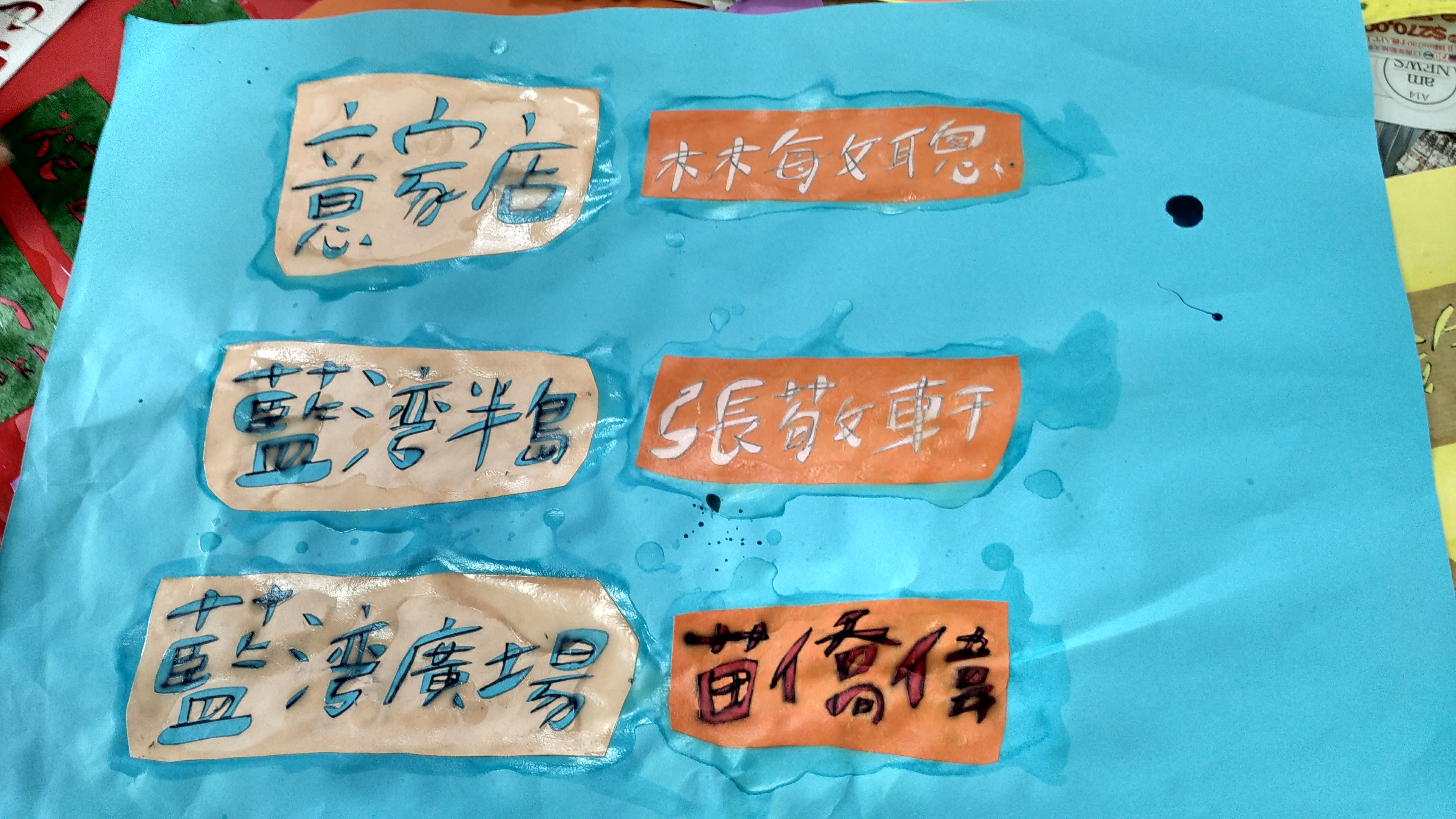 These very old TV programmes, TV star, some Hong Kong local brand, the street names… Actually we don't know what these things mean to her personally. What we can conclude is that all are Hong Kong… very Hong Kong. So when we exhibit her work, we introduce her and especially her Hong Kong context. And once we invited her to do a live collage in front of a Hong Kong landscape on a window. In a hotel, because we joined the Asian hotel arts fair. You know the rooms have big windows seeing the Hong Kong landscape, so [with the] collage on the window, her very Hong Kong text [will be set against] the Hong Kong landscape. And her details are also in the graduation book.
After she does the collage, stacking every piece of paper on the colour paper, she will cover it all with the glue like this.
K: Have you thought about giving her varnish?
B: Actually, we just suggested it, but to [use it] or not, it's her decision. Obviously, she wants her own way.
She is good now; she has her own set of tools. Every time she comes she will know exactly what to start or continue that day, what tools she needs, and has everything placed very tidily before starting her work. When time is up, she will tidy everything up.
All the artists now, especially from the first cohort, who graduated and are now using this room as artists, have their own drawer to store their own works. They know where the tools are, what tools to pick. Each of them has their own materials. For example, Ka-yan mainly [uses] paper collage and charcoal.