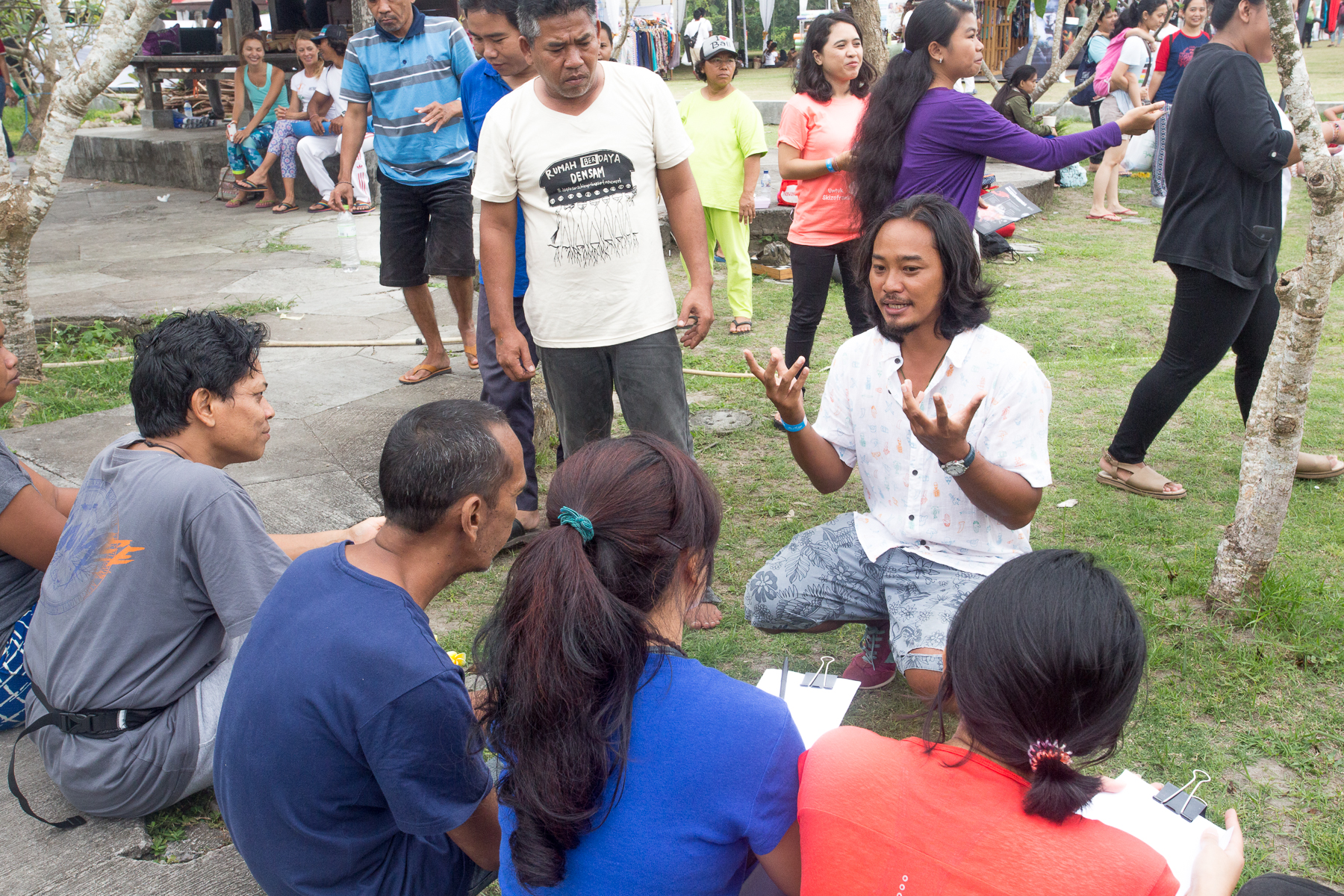 Budi Agung Kuswara (Kabul) is a visual artist from Bali-Indonesia. He is also a co-founder of Ketemu Project, an visual collective and social enterprise hybrid with a focus on social engagement,which was conceptualized in 2012.
Budi Agung Kuswara (Kabul) was born in Bali in 1982 and had graduated in a Bachelor in Fine Art from Indonesia Institute of the Art, in Yogyakarta. His paintings first caught the attention of curators in his home ground and Kabul was invited to exhibit at the Bali Museum and Neka Art Museum. Upon showcasing his first solo exhibition "i.self" at Komaneka Fine Art Gallery in 2009, he was headhunted by regional gallery Valentine Willie Fine Art and was presented for the "3 Young Contemporaries" program as one of the most cutting edge young contemporary artist in Southeast Asia. Moving on in his career, Kabul has presented collaborative works on an international level at the Asian Triennial in Manchester and at the San Francisco Art Institute. Kabul was invited to participate in Artist in Residency Program at the Fukuoka Asian Art Museum and produced work based on his Balinese traditions. He  had completed another 3 months-long residency at regional gallery TAKSU in Kuala Lumpur and presented his work in a solo exhibition at TAKSU Singapore. In 2016, Kabul was invited as International Residency artist at Bamboo Curtain Studio for 42 days since 1stOctober. He had presented his works and lead series of workshops in "Water and Land: International projects on Environmental arts" exhibition.
"Schizofriends Art Movement" is dedicated to realizing the capacity of each person living with schizophrenia to be an active and creative being.
This initiative seeks to produce a dynamic experience for participants, with the goal of supporting psycho-social rehabilitation for people with mental disabilities and psycho-education for the public.
Established by Ketemu's artist, Budi Agung Kuswara (Kabul), this initiative harnesses both open-ended tasks and designed experiences as a form of collective empowerment, that is both critical and therapeutic. The movement first begun as a collaboration between Kabul and psychiatrist Dr Gst Rai Putra Wiguna sp.KJ,  kickedstarted by a seed grant from the Mabesikan: Art for Social Change Project initiated by Search for Common Ground. Through a series of creative workshops held at Ketemu Project Space people with the condition from Bali were provided opportunities for expression and activities for them to develop a more vital relationship with reality. The workshops also enabled the community vocationally by providing skills for them to work and live more independently. After a series of public campaigns, Rumah Berdaya, a psychosocial rehabilitation centre was founded in 2016 with the support of the local government. This flagship creative space for people living with schizophrenia is now independently run by a team of psychiatrists and the members of Komunitas Peduli Skizofrenia Indonesia (KPSI) Bali.