22 Nov 2017 (Wed) – FREE

10 a.m. – 5 p.m.
Artist Susanne Bosch and Researcher/Curator Herman Bashiron Mendolicchio will host a public seminar featuring presentations and a conversation circle with local artists and practitioners.
After this event, there will be an artist-led experiential tour by theatre practitioner Jalyn Han.
3pm – 5pm (TBC)
Limited to 40 pax. RSVP required
Site to be announced
Join theatre practitioner and trainer Jalyn Han on our experiential tour in the city!
Using the philosophy and inspired by Jalyn's Seeding Lab, participants are invited to activate their senses and explore from 'nothing', with nobody knowing where or what our union of ideas will lead to.
Seeding Lab
is a common space and time for curious minds to generate fresh ideas and forms; to express their innermost voices.
.
We invite all curious minds – anyone who has the desire to break away from routine and try something new – to join us on this journey of discovery.
Please note:
You should wear comfortable clothing on all sessions as we'll be moving around quite a bit.
Participants are responsible for your own pacing of the physical movements during the workshop – listen to your body.
Places are limited, with priority given to registrations.
More information to be announced soon.
DAY 2 is FREE and open to the public.
TO RSVP |

Tickets are available online through

Peatix



Students enjoy a 50% off all workshop prices with proof of student identity at entry. Use coupon code "BRACK50"
For our facilitators' information, you will be asked to fill out a form via

Peatix

. Or email us with the subject line "2017 Conviviality Workshop", and provide the following details:
– Tell us a little about yourself and your Interests
– Contact Details (email and mobile no.)
Email for inquiries |

hey@brack.com
SPEAKER BIOS
Susanne Bosch
 Susanne Bosch is an artist and independent researcher. She received a PhD "Learning for Civil Society Through Participatory Public Art" from the University of Ulster in Belfast in 2012. From 2007-2012, she developed and led the Art in Public MA at the University of Ulster in Belfast, together with artist Dan Shipsides. As an "interface activist", Susanne practices internationally in public art projects asking questions about long-term issues, and building creative arguments around the ideas of democracy and sustainable futures. Her art often involves the issues of money, migration and societal visions and participation models. Susanne develops site- and situation-specific interventions, installations, videos, drawings, and audio as well as dialogical formats. In her artistic research, and as facilitator, she uses formats such as writing, seminars and workshops. Susanne has been working internationally in Austria, Italy, Ireland, the UK, Greece, Palestine, Spain, USA, Mexico, Malaysia as well as in Turkey and is currently the independent research fellow in the Collaborative Arts Partnership Programme (CAPP), a European partner network of six countries (2014-2018).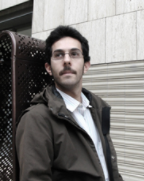 Herman Bashiron Mendolicchio
Herman Bashiron Mendolicchio is a researcher, writer, editor and curator, working across different disciplines, territories and cultures. He holds an International PhD in "Art History, Theory and Criticism" from the University of Barcelona. He is a faculty member and core advisor at Transart Institute (NY-Berlin), and Professor and coordinator of the Postgraduate course on International Cultural Cooperation at University of Barcelona. His current lines of research involve the subjects of intercultural processes, globalization, participation and mobility in contemporary art and cultural policies, and the cultural cooperation between Asia and Europe. As an art critic, editor and independent curator he collaborates with international organizations and institutions and writes extensively for several international magazines. He is Editorial contributor at Culture360 – Asia-Europe Foundation (ASEF), Managing Editor at ELSE Journal and co-founder of InterArtive.
Jalyn Han
Jalyn Han is a theatre practitioner and trainer with over 30 years of experience in acting, directing, scriptwriting, and theatre education. She first completed the Acting and Directing Courses by the late Kuo Pao Kun in 1989, and attended Master Class in Directing by Prof Stanley A. Waren in 1991 and Advanced Acting course by Michael Lindsey Simpson in 1997 at Practice Performing Arts School. She started her performing arts journey with the SAF Music & Drama Company in 1979. She has worked with The Theatre Practice, Drama Box, The Necessary Stage, TheatreWorks, Toy Factory Theatre, Nine Years Theatre as well as mainstream and special needs schools. Along her artistic journey, Jalyn relentlessly seeks new challenges to broaden her horizons, by participating in the production of film and music albums, and the training of artistes. She is dedicated to creating and nurturing a lifelong love for the performing arts in children, youth and seniors. She founded InARTS (
www.inarts.com.sg
) in March 2012 to realise her long-time dream of producing quality artistic content with heart, in collaboration with like-minded artistic talents.
Jalyn was one of the pioneer teacher-facilitators for the Theatre For Seniors Programme at The Necessary Stage between 2008 and 2011. Her multi-lingual community theatre project Small Talk was created to bring back the memories and voices of our senior residents. She had also choreographed the dance segments in National Day Parade in 2004, 2005 and 2008. November 2013, She was honoured to be invited by Macau Cultural Events Department, Cultural Affairs Bureau to judge for their 1st Community Arts Project (藝術在社區資助計劃).