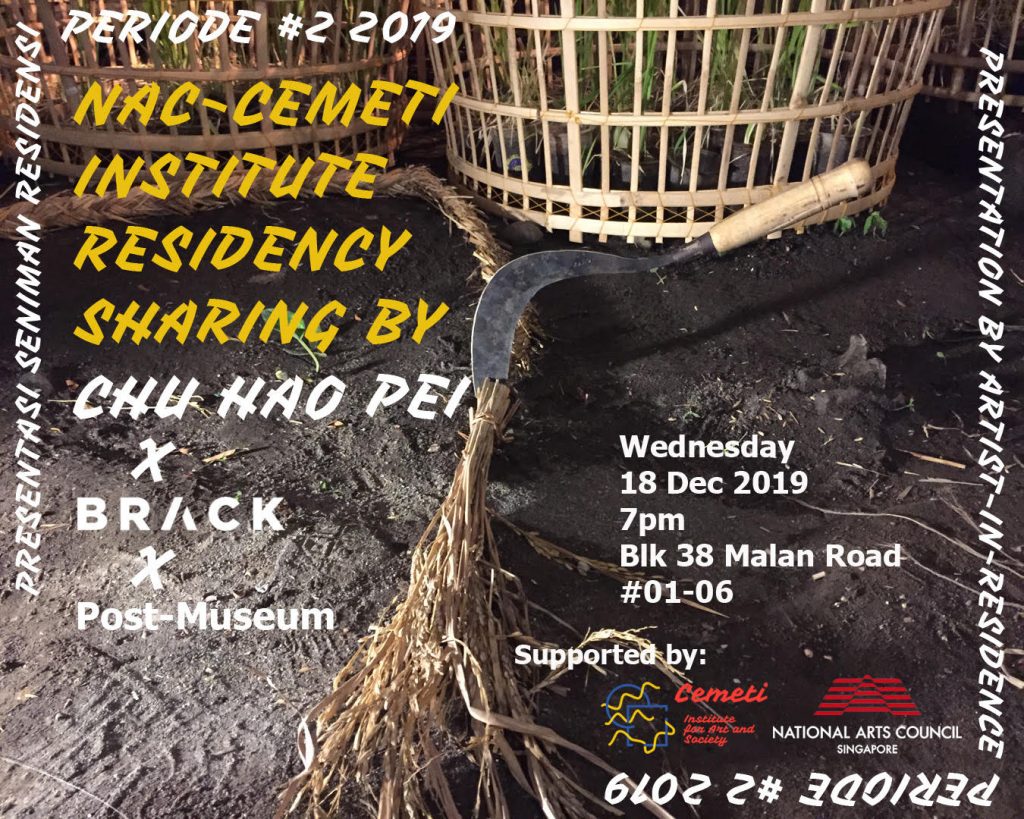 In collaboration with BRACK and Post-Museum, this sharing brings forth the reflections and insights of artist Chu Hao Pei's after his 3-months residency at Cemeti – Institute for Art and Society, Yogyakarta, Indonesia from September – November 2019.
Using the connection between religion and environmentalism as a starting point for Hao Pei's research series, his research explores the connection between faith and farming under the context of the Javanese belief system "kejawen". During the residency, Hao Pei started planting padi, visited various farming communities, and explored the local agricultural calendar (pranata mangsa), harvest rituals (wiwitan) and the rice goddess (Dewi Sri/Mbok Sri). However, in the research process, he discovered that many of the traditional rituals and worship of the local rice goddess -Dewi Sri/Mbok Sri- are diminishing, or in some cases are reintroduced in the form of celebratory festivals in rice farms within the Yogyakarta vicinity. This disconnection is closely related to the shift of Indonesian state policy towards a centralized distribution of agricultural harvest, which began during the rise of the Green Revolution in the 60's, with the introduction of genetically modified rice seeds in Indonesia.
After Indonesia's reformation in 1998, multiple religious organisations were able to practice their faiths and express their views in a more liberal way, giving rise to practices of moral policing by certain dominant religions. The shift in religious dynamics and introduction of modern technology to Indonesian agricultural communities resulted in a gradually more tenuous connection between local farming practices and indigenous belief systems..
Programme Flow:
7.00pm Produce Check In
7.15pm Introduction by National Arts Council
7.20pm: Artist Sharing
8.00pm: Respondent's reflections + Audience Q&A
Event Details:
18 Dec 2019 (Wed), 7pm
This session will be hosted in the studio of Alecia Neo, Block 38 Malan Rd #01-06, where she is currently Artist-in-Residence at NTU Centre for Contemporary Art Singapore.
Please kindly indicate your attendance by registering with the following link: https://forms.gle/GPrDn6xpFNELvKDQ6
This is a zero-waste event. Kindly bring along your own bottle or cup to enjoy refreshments.
Artist Bio
Chu Hao Pei (b.1990) is a visual artist from Singapore. Formally trained in Interactive Media, Hao Pei began his practice under the School of Art, Design & Media (ADM) in Nanyang Technological University, Singapore. His artistic practice is informed by the shifting ecological, social and urban landscapes. By interweaving documentation and intervention as a strategy, he explores conflicts and tensions arising from state's interventions on nature and culture. More critically, Hao Pei's works examine loss, or potential loss, of nature and cultural heritage as a tactic to draw our attention to wider issues of environmental and cultural loss.
Respondent: Tan Yock Theng spent 8 months in residence at Schumacher College, an intentional learning community with ecology-centred programmes in the UK. There, she re-connected with soil and explored a different paradigm of relating to soul and society. She also explored the notion of embodying economics through a relational orientation. Her current inquiries include inviting other ways of knowing (and relating); and working from the premise of complexity and interdependencies.
Moderator: Kei Franklin is a facilitator, writer, artist and researcher working at the intersection of culture and the environment. Concerned with questions of power, identity, and justice, Kei designs interventions that speak to the systemic, cultural, and psychological roots of our current planetary moment. In her free time, Kei creates immersive experiences that explore the intersections of performance, dialogue, movement, and sound. She is also editor-in-chief at Brack.
About Brack
Brack is a Singapore-based platform for socially-engaged artists in Southeast Asia. We are interested in practices of gathering, and in dialogical exchanges across mediums, disciplines, and communities. We seek to understand how socially engaged art can activate a community or society, and seek to experiment in those very activations—through the way we write, work with artists, and engage with audiences.
We have a community of artists, writers, and artistic and social intermediaries who are well-placed in Southeast Asia to understand these processes on a deep level. Brack emphasises the inter-relational. Aside from the online gathering space, it manifests as exhibitions, talks, workshops, dialogues, and collaborations with local and international practitioners that attempt an alternative praxis to the artist-audience link.
About Post-Museum
Post-Museum is a Singapore-based independent cultural and social space which aims to encourage and support a thinking and pro-active community. It is an open platform for examining contemporary life, promoting the arts and connecting people. Having managed a physical space from 2007-2011, Post-Museum is currently operating nomadically. Collaborating with a network of social actors and cultural workers, Post-Museum's practice consists of creating social practice projects, curating and organising various cultural and social activities.
This residency is proudly supported by:
National Arts Council Singapore
Cemeti – Institute for Art and Society