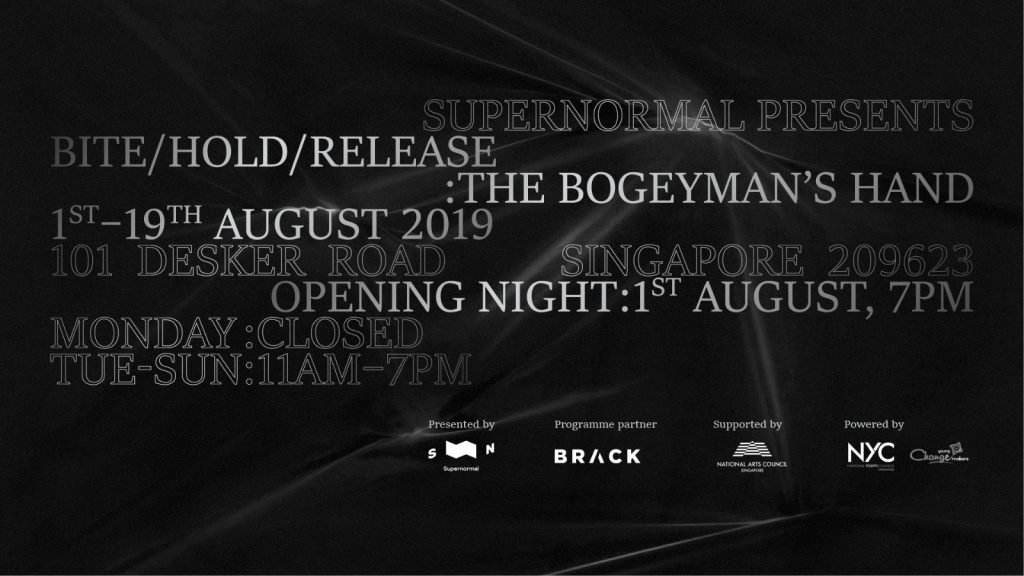 SANDBOX #02
Date:​ 3 Aug 2019, Saturday, 4 – 6pm
Venue:​ Supernormal
SANDBOX is an informal discussion about art making in Singapore. Together with guest artists Ong Kian Peng and Alecia Neo, aspiring artists / art students are invited to bring along their portfolios, share their latest projects and engage in a meaningful conversation about producing work, artistic processes and visual arts in Singapore.
Free admission. Pre-registration is needed at http://https://sandbox2.peatix.com/
Mask Making Workshop
Date:​ 10 Aug 2019, Saturday, 1 – 5pm (4 hours)
Venue:​ Supernormal
Ticket: ​$30 per pax
Registration is needed at https://maskmaking.peatix.com​/
Enrolment is limited to 10 participants only, due to the interactive nature of the course.
Materials will be provided.
Who are you?
What are the expectations imposed upon you? What / who would you like to be?
Led by artists, Quinn Lum, Adar Ng and Lin Shiauyu, this workshop invites exploration, reflection and creation of your own identity through the creative outlet of mask-making!
Our identity is often elusive. ​This lab session invites you to bring forth the inner self, allowing participants to spend time intentionally illuminating and examining their inner worlds. By spending time with the self to gain a deeper understanding of it, we can heal, and thereby enable ourselves to embrace the many complexities within.
The mask will act as a mediator between the private and public selves. By first reflecting on who they are, who they want to be, and what matters to them, participants will gain a deeper understanding of their inner selves. By creating a mask based on these reflections, they will bridge the gap between private and public – literally 'wearing' these inner discoveries for all to see. As participants present their inner selves, they become empowered to live a life aligned with their inner purpose.
The 4 hour workshop involves participants designing their masks, and then crafting and painting the masks. Participants are encouraged to share their creative process and results at the end of the day.
INTENDED AUDIENCE
Anyone who would like to explore and better understand their personal identities. No art background is required. Bring along loads of self-compassion and courage.
Artist Talk
Date: ​14 Aug 2019, Wednesday, 7 – 9pm
Venue: ​Supernormal
Artists Quinn Lum, Adar Ng and Lin Shiayu will share their individual creative process through the framework of BITE / HOLD / RELEASE, and how their journey led them to create the works in the exhibition. Working together in a collective of three, the artists will shed light on their collaboration, and how they worked collectively to confront the trauma, malignancy, loss and misalignment that surfaced throughout the process of this exhibition.
Free admission.
Exhibition Partners:
Supernormal
Supernormal is an independent art space that strives to present experimental and offbeat works and projects, ranging from design to artistic practises, and the in-betweens. Housed in the characteristic building at 101 Desker Road, Supernormal hopes to create a creative and experimental platform for new possibilities in Singapore's creative and artistic landscape.
Brack
Brack is a Singapore-based platform for socially-engaged artists in Southeast Asia. We are interested in practices of gathering, and in dialogical exchanges across mediums, disciplines, and communities. We seek to understand how socially engaged art can activate a community or society, and seek to experiment in those very activations—through the way we write, work with artists, and engage with audiences.
We have a community of artists, writers, and artistic and social intermediaries who are well-placed in Southeast Asia to understand these processes on a deep level. Brack emphasises the inter-relational. Aside from the online gathering space, it manifests as exhibitions, talks, workshops, dialogues, and collaborations with local and international practitioners that attempt an alternative praxis to the artist-audience link.